Infinity impresses at Soenda Indoor WSK 2022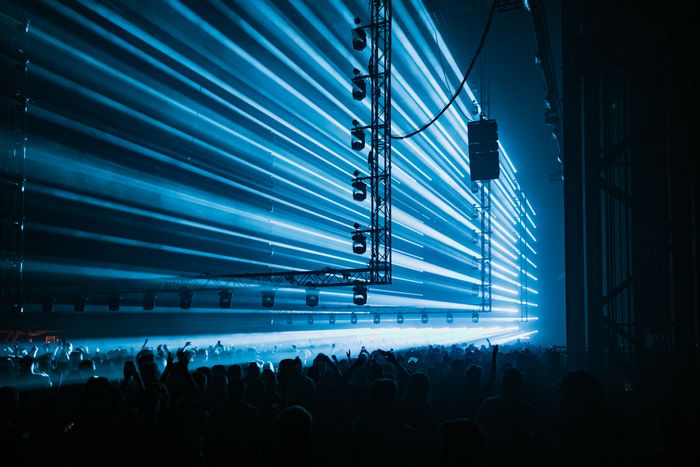 Impressive visuals with over 200 Infinity fixtures contributed greatly to the success of the Soenda Indoor Werkspoorkathedraal 2022 in Utrecht, The Netherlands, and have contributed to a sold-out-in-just-3-days Soenda Indoor Festival 2023.
Elevation Events teamed up with T.Y.S Productions and Stagelight to set up an unforgettable night at the Soenda Indoor Werkspoorkathedraal 2022, which saw 6000+ electronic music lovers make their way to the unique Werkspoorkathedraal location in Utrecht to enjoy their favourite music and dance the night away. Perfectly fitting the industrial look of the location as well as the trademark theme of minimalistic geometric forms that characterises Soenda, Light Designer Lars Aarts from T.Y.S Productions created a unique design of five large geometric truss squares in which a staggering 180 Infinity iB-2R moving heads were mounted, provided by Stagelight. Their fat beam and long focal length offered the exact features that were needed for the intended light design, and in combination with the outstanding reliability of our iB-2R the choice for this fixture was only logical. For lighting the DJ booth, two of our powerful Infinity Furion S601 Profiles were used as side lights. To accentuate the industrial characteristics of the location, a further 28 of our Infinity Furion S401 Spot moving heads were chosen for their deep colours and beautiful gobos with razor-sharp images.
The massive amount of moving heads gave the two light operators a challenge, but the sheer amount of possibilities to create the most remarkable dynamic effects and jaw-dropping depth perceptions was simply out of this world. By perfectly timing the lights, huge, dizzyingly fast-moving tunnel effects could be created as well, all the way from the stage to the back of the hall. Check out the photos for an impression of the sold-out event.
Credits:
Equipment Supplier: Stagelight
Technical Production: Elevation Events
Design and Operating: T.Y.S Productions
Pictures: Sander van der Ven / Stef van Oosterhout / Wesley Houben / Marvin Slaats
See more pictures at: https://www.highlite.com/en/news/base/infinity-impresses-at-soenda-indoor-wsk-2022.html