ABTT Technical Standards for Places of Entertainment
09 May 2023
Wellington Suite - level 1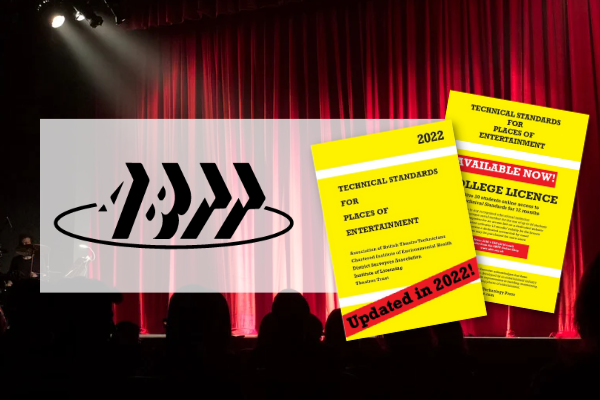 The Technical Standards for Places of Entertainment is constantly updated! Join us as we outline the amendments that have been made since 2022. Participants at this session will have the opportunity to raise questions and discuss interpretation of the guidance and compliance.
It is advisable if your book is out of date to obtain the most recent revised edition to ensure you are following the most current guidelines and legislation. You can do this on the ABTT Website or by visiting our stand at the PLASA Show for additional discounts!
When you purchase a copy of our Technical Standards for Places of Entertainment (Yellow Book) you will obtain your own unique code which allows you to then view the publication online with any of the most recent updates included.
---
You may also want to consider becoming a member of the ABTT to get access to:
Standards Updates: Standards Updates are downloadable PDFs which contain listings of significant updates and amendments within 'Technical Standards for Places of Entertainment.'
ABTT Codes of Practice: These provide guidance and recommendations on technical topics that are relevant to our Industry. These are typically more detailed on specific subjects than is contained within 'Technical Standards for Places of Entertainment'.
ABTT Technical Resources: The ABTT is the number 1 source for technical resources for our Industry. You can find the information you need on codes, forms, updates and advice to help you work in a safer and more successful Theatre Industry
ABTT Guidance: The ABTT also provide a list of relevant publications and resources you need to ensure you are working to the correct Industry standards – following health and safety guidelines keeping themselves, their staff and the public safe.
---
Sign up for this session below: