07 May 2019
A packed PLASA Focus Leeds Preview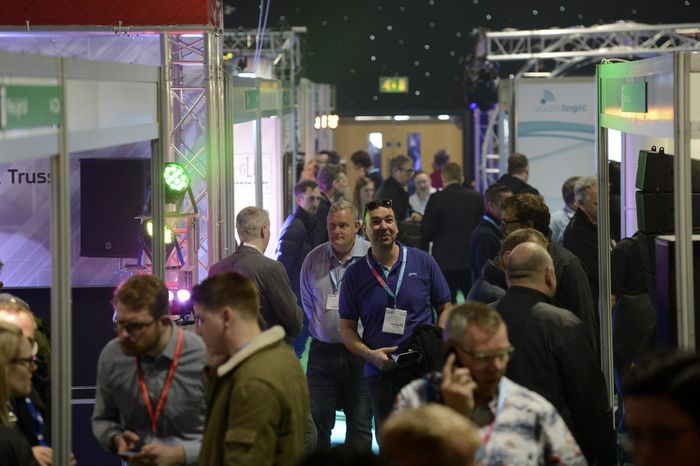 The 11th edition of PLASA Focus Leeds will open its doors from 14-15 May at the Royal Armouries Museum, unleashing the world of live entertainment technology on the north of England.
Spanning two sold-out halls, the popular show provides a platform for 175+ leading brands, all geared up to showcase the very best the industry has to offer, including a variety of products arriving on UK shores directly from international launches.
Lighting will make an impression with Robe, Chauvet, Elation and Avolites; huge audio will be delivered by Bose, d&b audiotechnik, Funktion-One and Sennheiser; and event specialists include SFL Group, UK Rigging and Hawthorn.
Beyond the show floor, the programme will see industry leaders present content that is both insightful and entertaining, guaranteeing visitors will depart from the show with ready-to-apply knowledge and endless inspiration.
Future-proofed audio systems
Audio professionals can look forward to seeing for the first time the Vero VX from Funktion One which promises to bring Vero sound to a wider range of venues. KV2 Audio will debut their ESD CUBE which offers a high quality, compact solution. Bose are presenting their ArenaMatch loudspeakers which bring improved sound and flexibility to outdoor events. Also, Martin Audio are displaying their BlacklineX series which proudly claims to be the next level of loudspeaker.
Additionally, a plethora of wireless systems will be at the show including Shure's Axient Digital, Trantec's newly launched S5 series of Rack 'n' Ready, and the new generation R-4 from JTS.
Next-generation lighting products
Those who work in lighting can look forward to Elation debuting their Artist Monet fixture which boasts a comprehensive FX package and SpectraColor engine. Strand are featuring their NEO console which encompasses the aspirations of both professionals and amateurs. Robe will turn heads with their four-times brighter SuperSpikie fixture complete with rotating gobos. Also, the recently released SolaFrame by High End Systems will showcase its diverse feature set.
ETC will be showing off their very first integrated 3D programming software which offers a rich set of tools and augmented reality enhancements. And, the first glimpse of Chroma-Q's Vista 3 software can be seen on A.C Entertainments' stand.
The show goes on with innovative solutions
Next generation trussing and staging will be in the room, including MILOS, LITEC, JTE and TOMCAT from Area Four Industries, the ModTruss Construction System from Triple E Ltd, Decotruss from Staging Direct, and the latest modular systems from Total Fabrications. Doughty are back with their new Fifty Clamp and Scaff Boom Arm and Showtex will present their new HiSpeed Reveal.
Elsewhere, a variety of storage solutions can be seen on the stands of 5 Star Cases, Flightcase Warehouse and Ultrasonic Flightcases Ltd. Screens and projectors will be on display courtesy of Gerriets, Audio Visual Material Ltd and Blitz. And, guaranteed crowd pleasers will be on show such as the showlift from VMB, the Salamander Quad Pro from Le Maitre, and the AMTe WPE fog generator from MDG.
Going large with audio sessions
Standouts in the programme include the record-breaking audio install at the Royal Albert Hall presented by the iconic venue's head of technical and d&b audiotechnik. Also, sound engineer Raphael Williams will reveal how he is preparing for Stormzy's upcoming Glastonbury headline performance,
L-Acoustics will reveal how they create immersive audio experiences with their L-ISA technology, and KV2 Audio will run demonstrations of their latest sound systems taking the West End and Broadway by storm.
Audio consultant Roland Hemming will present on voice alarm systems, digital audio networking, and British standards and Brexit. Elsewhere, Shure will delve into managing wireless in a post-700MHz world and Audinate will deliver Level 2 Dante Certification.
Lighting up the programme
Harman and Sound Technology will deliver a session on how to unlock the creative potential of the Martin P3 Visual Control system. Meanwhile, Vectorworks will discuss concert and event product and design from research and concept to 3D modelling and production plan.
Also, Rob Halliday and Adam Bennette will present a rundown of Ecodesign which has been looming over stage and studio lighting over the last year.
Offering hands-on opportunities, Zero 88 will deliver introductory FLX console sessions and, there will be a range of ChamSys QuickQ and MagicQ sessions as well as an hour-long Q&A.
Unmissable technical content
The Riggers' Forum returns, hosted by Harry Box from UK Rigging, Chris Higgs from Total Solutions, Paul Rowlands from the NEC Group and Dave Woodward from Liverpool Philharmonic, to look at method statements, risk assessments and construction phase plans and the lack of onsite professionals.
Chartered engineer and PLASA consultant James Eade will deliver seminars on earthing and electrical safety, the 18th edition IET wiring regulations, and lightning guidance. The latest Technical Standards for Places of Entertainment will be presented by the ABTT focussing on record keeping and reporting. And, PLASA consultant Tom Goode will deliver a session on Construction (Design and Management) regulations.
Industry initiatives
PLASA's latest training scheme will be launched at the show: National Event Lifting Training (NELT) which is designed for production professionals who carry out lifting operations at ground level.
Also hosted by PLASA, a panel of industry leaders will discuss mental health, sharing their approaches and suggesting for how others can contribute to this important topic.
PLASA's head of events Sophie Atkinson comments, "We are excited to return to Leeds, marking the start of the show's second decade. With a sold-out show floor and fully-stocked programme, we are confident that PLASA Focus Leeds will continue to lead the way and inspire the thousands of visitors we expect to welcome throughout the two-day show."
PLASA Focus Leeds runs from 14-15 May at the Royal Armouries Museum, Leeds. To browse the programme and register for your free ticket visit
www.plasaleeds.com