20 May 2019
A unique platform for connection and trade: PLASA Focus Leeds in review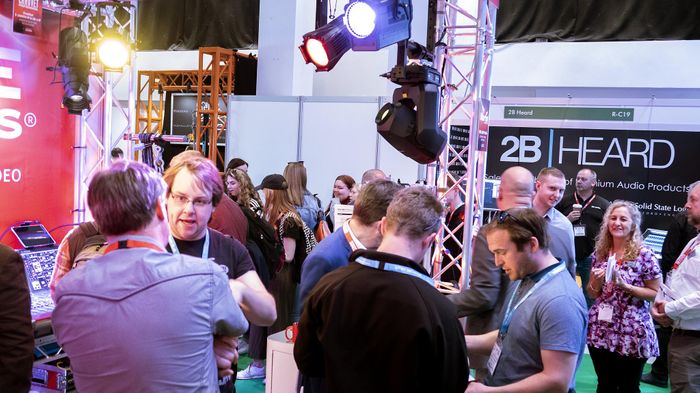 PLASA Focus Leeds returned to the Royal Armouries from 14-15 May for its 11th edition. With an 8% increase in visitors, the show once again proved to be a key social and business event in the entertainment technology calendar, welcoming professionals from across the industry over two days.
With a popular capped stand format, the show provides a relaxed and friendly atmosphere, as Davie Bell from Stage Electrics explains, "That's where PLASA Focus Leeds is particularly relevant – with smaller stands you can get close to all sorts of people. As a result, we have been fantastically busy."
Peter Condron, UK Sales Manager for Martin Audio confirms this sentiment: "It's been a great show, due to the family feel which the show is known for. It's just the right size and the fact it's spread over two halls also makes it feel more spacious and relaxed. It has been really busy with both valued clients and potential customers coming by our stand. The show has been very positive."
Two thriving show halls
The show floor spanned two halls, offering products and solutions from a mix of audio, AV, lighting, staging and rigging brands, with several new faces who were keen to capitalise on their debut.
"As we are new to PLASA Focus Leeds we tried to do things a little differently" says 2B Heard's Director, Sam Nankivell. "We achieved this by installing an immersive audio system at our stand which included twenty speakers for a full 3D soundscape. This surprised many visitors and we had a number of new enquiries."
Following their debut appearance last year, HH Electronics enjoyed meeting visitors spanning generations as Adam Groves explains, "This is our second year at PLASA Focus Leeds and we've had some great visitors to the stand, including many who remember HH from many years ago as well as plenty of aspiring DJs."
Regular exhibitors GLP relocated this year to maximise their latest eye-catching lighting products. Simon Barrett comments, "Leeds is my favourite UK show, yet this is the first time we have exhibited with a stand facing the main entrance – it's been brilliant! We have loads of products that we're showing people, so it really feels like the right time for us to be here."
Newly launched products
The show floor also featured many products appearing in the UK for the very first time:
The show's gold sponsor Elation showcased their latest versatile lighting fixtures: the Artiste Monet, Artiste Picasso, Proteus Maximus and Proteus RAYZOR 760. The show was also the first UK trade show since Elation appointed Entedi Ltd as their UK distributor.
Marc Librecht, Sales and Marketing Manager for Elation Europe comments, "PLASA Focus Leeds is always such an enjoyable show and this year was especially exciting with Entedi on hand to represent Elation. We were delighted to again add our support as a Gold Sponsor. Feedback confirmed that we've hit the mark with both our Proteus and Artiste lines and we look forward to the next occasion to connect with our UK customers."
Sound Technology debuted the Martin by Harman Atomic Dot and MAC Allure fixtures and P3 software, as well as TDE-lighttech products as the newly appointed UK distributor. Darren Jackson, Head of Sales for Sound Technology comments, "The show has been amazing for us, with a continual flow of some very interesting customers. The reception from everyone has been absolutely amazing. Overall it's been a really good show for us."
Avolites debuted Synergy, their brand-new lighting and video integration, weeks before its actual release. "The reaction to Synergy has been really exciting for us" says Stephen Baird-Smith, Sales Manager for Avolites. "Furthermore, we've met a lot of familiar faces at what we consider the most sociable show of the year, as well as many of the future's lighting designers and programmers."
Audio debuts included Funktion One's Vero VX sound system, KV2 Audio's compact ESD Cube loudspeaker, EM Acoustics' Halo-B line array, Martin Audio's VIA amplifier range, Shure's TwinPlex subminature microphone, and the ArenaMatch line array from Bose.
Funktion One's David Bruml says, "It's great to be in sunny Leeds showing off our Vero VX for the very first time in the UK. We've had a string of really good meetings from all walks of the audio community and we have really enjoy being with the rest of the industry in such a relaxed setting."
Leading the way for staging solutions were Area Four Industries who brought along their new EXE Technologies automation products, Triple E who demonstrated their latest stage tracking solutions, and Doughty who showcased their new Fifty Clamp and Scaff Boom Arm.
Programme highlights
A considerable number of visitors took advantage of the expert-led programme which presented a selection of this year's biggest creative projects, technical updates and practical training.
It was a full house for 'More than a Venue' which unpacked the challenging audio installation for the Royal Albert Hall, a venue known for its acoustic imperfections. It was a challenge taken on by d&b audiotechnik who revealed how they created the world's largest single-room speaker system. Another highlight was Stormzy's audio engineer Raphael Williams who explained his unique challenges and preparations for the grime star's debut headline Glastonbury performance this summer.
The show hosted various sessions on the latest regulations and legislation. James Eade presented a well-attended series on electrical safety, busting widespread myths and promoting best practice. Elsewhere, a comprehensive Ecodesign update was delivered by Adam Bennette, Rob Halliday and Steve Giudici, who have been working closely with industry bodies and the EU Commission to achieve the best outcome for those who work with stage and studio lighting.
PLASA launched their new training programme at the show, unveiling National Event Lifting Training (NELT) aimed at production professionals. Furthermore, PLASA chaired a panel of industry leaders to explore the most effective approaches to supporting mental health throughout the industry.
Onwards and upwards for PLASA events
PLASA's Head of Events Sophie Atkinson says, "We are thrilled that PLASA Focus Leeds continues to grow in popularity and diversity, facilitating connection across the entire industry.
"We are proud of our friendly Focus events and are very much looking forward to rolling out a revived PLASA Focus Glasgow from 3-4 March 2020, as well as returning to Olympia London from 15-17 September with our flagship PLASA Show."