03 May 2023
What to expect at PLASA Focus Leeds 2023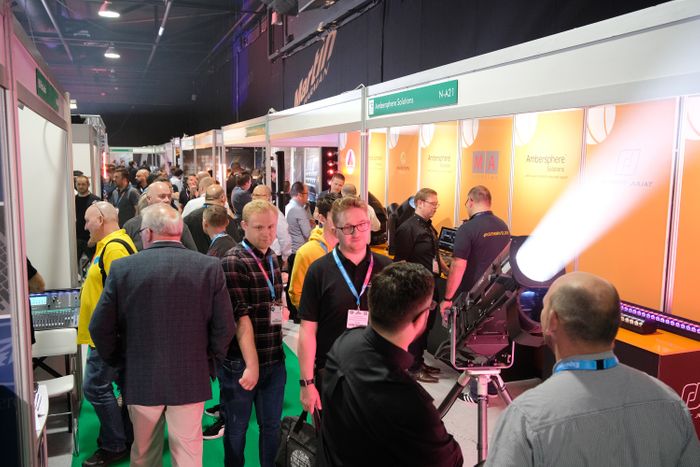 PLASA Focus Leeds lands back at the Royal Armouries next week, from 9-10 May, for two packed days of all that's new in live entertainment technology. And Ambersphere proudly return for another year as the headline sponsor.
A record number of people have registered for the friendliest trade show in the industry. And the two show halls feature many of the biggest names from pro audio, stage lighting, audio-visual, rigging and staging technology.
Big name brands
Lighting professionals can look forward to meeting manufacturers such as Artistic Licence, Avolites, CHAUVET Professional, ETC, GLP, Robe, SGM, TMB, and Vari-Lite. Audio professionals can meet brands such as d&b audiotechnik, Bose, EM Acoustics, Funktion One, Nexo, Peavey, RCF, Shure, and Yamaha.
AV brands will also be at the show, including Bosch, Epson, Lang, PSCo, and Riedel. And several rigging, staging and accessories companies will be in attendance, such as Alustage, Area Four Industries, ChainMaster, Doughty, Drape Makers, Electric Airshows, Encore, Flightcase Warehouse, Flints Theatrical Chandlers, Harlequin Floors, J&C Joel, NSP Cases, Sundrax, Triple E, Rigging Services, and UK Rigging.
In between the show halls, visitors can soak up the spring sunshine and enjoy food and drink stalls, including the all-new 'Unplugged Bug', a VW Camper transformed into a mobile DJ booth fitted with pro Martin Audio gear.
Insightful sessions
A well-stocked programme also awaits visitors, led by live sector thought-leaders. On the main stage, visitors can hear from programme sponsors Vectorworks on production design for Sky Sports Boxing; White Light on sustainability; James Eade on BS7909; lighting designer Durham Marenghi on the Leeds Year of Culture Opening Ceremony, the World Cup Opening Ceremony and the 'hidden' New Year's Eve celebrations in London; Riedel on the Edinburgh Hogmanay; UK Rigging on their Project X recruitment scheme; and West End sound designer Peter Rice on content-based theatre.
Upstairs in the Royal Armouries, visitors can hear from Production Park and the Academy of Live Technology on how to nurture the next generation; HOLOPLOT on the future of storytelling; ETC on the balance of power; the ABTT on their technical standards; and BECTU on their industry rate cards. Plus, the National Rigging Advisory Group (NRAG) will host a Q&A and drinks reception, and PLASA will host sessions on wellbeing and health & safety.
Immersive experiences
Elsewhere, visitors can get hands-on with the latest lighting consoles courtesy of ChamSys, with sessions on MagicQ, QuickQ, timecode, timeline, group based programming, and more. Plus, KV2 Audio will run live demonstrations throughout the show in the Holiday Inn Express, including the UK launch of their ESR 106 and ESD 8.
For those who need some support, the all-new EventWell Hub will offer refuge for anyone who experiences anything unsettling at the show. Plus, it will provide a quiet space to unwind. Follow the signage to Level 1 or contact the onsite host on 07775 299590
Join your colleagues in Leeds
In addition to all the products and speakers, PLASA Focus Leeds is also fertile ground for making connections and growing your business network. So, be sure to register for your free badge and join the best of the live entertainment industry, from 9-10 May at the Royal Armouries, Leeds.
for your free ticket at https://www.plasaleeds.com/