28 Feb 2022
Introducting our Headline Sponsor - Ambersphere Solutions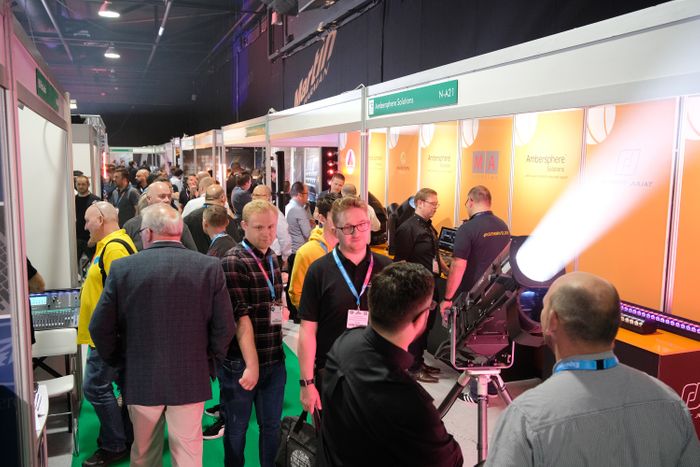 While we wait for PLASA Focus Leeds 2022 to open its doors, we catch up with Lee House, General Manager for Ambersphere Solutions, who are this year's Headline Sponsor.
What can visitors look forward to seeing on your stand at PLASA Focus Leeds 2022?
PLASA Focus is a great show for networking and introducing people to upcoming products. At the show this year we will feature several exciting new products from Ayrton, Astera, MA Lighting and Robert Juliat. We can't say too much until the opening day, however, we will definitely have some very exciting innovations to share.
Tell us about Ambersphere's most exciting recent projects and achievements…
We have recently celebrated our 10th anniversary and it's been amazing to look back at where we started and where we are now.
Our role is supporting our clients and being a part of their incredible productions. From the largest concert tours, blockbuster movies and West End productions, we stand behind our production family to help them achieve wonderful entertainment.
We have of course done this all hand in hand with our supply partners, who continue to develop and bring us exciting products and software.
Why do you think trade shows continue to draw big numbers of visitors, even in the Covid-era?
We are incredibly lucky to work in a 'people business' and this is why we continue to exhibit at trade shows. It's where people can look at new products and engage with each other to build important relationships.
Trade shows are also a great place to gather new product ideas that get channelled back to our manufacturing partner's R&D departments and help drive the industry forward.
Where can visitors find you at the show?
We are at the bar! Well, we are next to the bar. Our stand is N-A21, and we are in the corner of the hall next to the Ayrton-sponsored bar. Of course, as the Headline Sponsor, we will also have all team members at the show, so you may bump into one of us walking the floor, or indeed at the Ayrton bars, so do say hi.
What do you think will be the topic on everyone's lips this year's show?
Obviously, the big talking point will be the lifting of restrictions and things starting to really open. The amazing work of #WeMakeEvents has played a big part in this – which should not be forgotten – so that will no doubt be a hot topic.
As mentioned before, we will have a couple of stand-out products on our stand which we think will be a very hot topic!
What advice would you give to someone who was new to the industry or visiting PLASA Focus Leeds for the first time?
The PLASA Focus model is great for first-time visitors as it really is about the people. The networking side of our industry is crucial to anyone starting out. My advice would be to take your time and visit all the stands. Don't be afraid to ask questions as there is no such thing as a stupid question.
PLASA Focus Leeds is taking place at the Royal Armouries Museum in Leeds from 10-11 May 2022. Register for your free ticket here.