23 May 2022
PLASA Focus Leeds makes a triumphant return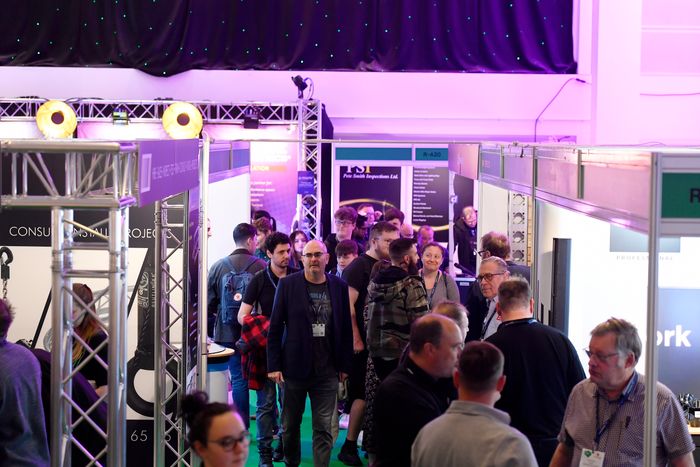 After an unavoidable two-year hiatus, PLASA Focus Leeds made a triumphant return to the Royal Armouries from 10-11 May for the 12th edition of this much-loved industry event.
With visitor levels exceeding expectations, the strong sense of industry unity on the show floor could not be ignored. Following the successful return of PLASA Show to London Olympia in September 2021, PLASA Focus Leeds provided the first opportunity for the industry in the north of the UK to reconvene for what remains a key social and business event for the sector.
Taking place across two days and with its usual capped stand size format, the enduringly popular show once again provided a relaxed and convivial atmosphere for networking, business, product presentations and demos. Visitors returned in large numbers to get hands-on with the latest tech, and to meet face-to-face with industry friends and colleagues once more.
Phillip Norfolk of the show's headline sponsor Ambersphere Solutions comments: "PLASA Focus Leeds is important to us as an industry; this is THE show to come to and talk to people about the industry about what is going on." Sennheiser's Kevin Gwyther-Brown agreed, saying: "Being back at the show this year is just fantastic - quite honestly, you couldn't have wished for a better comeback!"
This sentiment echoed throughout the Royal Armouries, with ETC's Graham Parker saying: "PLASA Focus Leeds is always a really social show. We get to see a lot of people, there is a big crowd around already!" While Eva Gerlach of Indu Electric said: "For us, PLASA Focus Leeds has been a great show - not just because of all the sales and requests for further information about our products, but because we were able to see our industry family again."
Two thriving show halls
As always, the show floor spanned two halls, offering products and solutions from a mix of pro audio, AV, lighting, staging and rigging brands, with several newcomers present who were keen to capitalise on their debut. First-time exhibitors Sauca couldn't compliment the show enough, with Vanessa Bailey expressing that: "The show's been absolutely phenomenal. There's been lots of interest in what we do and we've had some really exciting conversations. We've been blown away by the response."
The show floor was buzzing with "new clients, new companies and new technology that you haven't seen in person yet…" rejoiced Tom Legge of Innovation Products, making PLASA Focus Leeds, yet again, the ultimate northern events hub/.
Exhibitors benefited from priceless face-to-face interactions, provoking an abundance of actionable business leads and valuable networking opportunities. Stuart Gibbons from Le Mark Group comments: "PLASA Focus really ticks the box for us; the right people in the right place that want to talk and develop important projects. We will be back in 2023, that's definite!" His sentiments were shared by Wayne Howell of Artistic Licence, who said: "There's been a good split between new and existing customers here, all with serious enquiries, which has been very encouraging."
Newly launched products
After a two-year break, brands were eager to demonstrate their latest product developments and innovations, with many new products making their UK debuts at the show.
Headline sponsor Ambersphere Solutions displayed an array of new tech from its supply partners, demonstrating the Sully 4C four-colour LED zoom profile and Fresnel spot from Robert Juliat; Zactrack's new SMART system for automated followspot applications; the latest software (v1.7) for the grandMA 3 lighting console; plus Astera's award-winning Pixel Brick and Ayrton's IP65-rated Domino Profile-S, which is currently being used on Ed Sheeran's tour and about to be used on The Killers international tour.
Sennheiser demonstrated a range of new products, including the entry-level XS Wireless IEM system and Neumann's newest Miniature Clip Mic (MCM) system for close-miking acoustic instruments in live applications. Meanwhile, d&b audiotechnik's 44S two-way ultra-compact flush mountable loudspeaker made its UK debut alongside the XSL8 line array module for small- to medium-scale sound reinforcement.
Robe showcased an impressive display of lighting equipment, demonstrating the new static LED fixture T11, which features the company's transferable light engine and is suitable for noise-sensitive environments such as theatres, TV studios and broadcasting applications. Meanwhile, Chauvet Professional highlighted a plethora of recent releases, including the Color Strike M IP65-rated motorized strobe/wash, with Sam Bowden commenting: "There's been a constant stream of people visiting the stand throughout the show. Everybody likes PLASA Focus Leeds, so everybody's made an effort to come back. There's a really friendly atmosphere and everybody's keen to talk."
Visitors were treated to even more UK product debuts, including the new EOS Apex lighting controller from ETC which was demo'd alongside the new Source Four LED Series 3 and fos/4 fixtures. City Theatrical highlighted its new Multiverse wireless DMX/RDM 2.4GHz system, while the new KSM11 wireless vocal microphone capsule drew crowds to Shure's stand. Jack Drury of Shure comments: "We're really excited to be back at PLASA Focus Leeds. We see a lot of end-users here, plus a lot of industry colleagues and friends that you just don't get at the other trade shows."
Programme highlights
Many visitors also took advantage of the free-to-attend expert-led seminar programme which presented a selection of this year's biggest creative projects, industry updates and practical training.
The team behind #WeMakeEvents shared an industry update, with the panel including DIT's Richard Parry who confirmed the importance of "continuing our persistent and brazen approach when fighting for more government recognition in the events industry". This was supported by PLASA Managing Director, Peter Heath, who said: "Judging by the appetite for today's discussion, we will carry on the work we're doing as #WeMakeEvents!"
Heath also sat on an inspiring 'Wellbeing in the industry' panel alongside a number of mental health ambassadors from commendable industry charities such as Backup and Music Support. The session provided useful updates and resources to support freelancers and companies with the struggles caused by mental health issues. Backup's efforts continued across the two days with an event exclusive collaboration with Big Drop Brewery, selling refreshing alcohol-free beer, with all profits from drinks sold at PLASA Focus Leeds being donated back to the charity.
Backup charity co-ordinator Jessica Allen enjoyed a busy show, saying: "It was wonderful to catch up with our regular supporters and to meet new faces. Thanks to all who came past the stand to say hello and learn more about Backup. Thanks also for all the purchases of Big Drop beer and donations which helped to raise over £600 for Backup."
Elsewhere, interactive audio demos were held by KV2 Audio, demonstrating products from its ESD, ESR and EX series, whilst ChamSys ran a free training programme across a wide range of its lighting control products and consoles, giving attendees a rare opportunity to gain uninterrupted, hands-on experience with the technology.
Onwards and upwards for PLASA events
Reflecting on the successful return of the show, PLASA's Head of Events Sophie Atkinson comments: "The return of the event this year has been overwhelmingly heart-warming and immensely successful. We are delighted that PLASA Focus Leeds remains a staple industry event, particularly after all the hardship experienced by the events community over the past couple of years. We are honoured to provide a platform for the entire industry to connect, be inspired and most importantly, have fun! We are very much looking forward to returning to Olympia London from 4-6 September with our flagship PLASA Show!"
To find out more about PLASA Show 2022 visit https://www.plasashow.com/