26 Mar 2019
PLASA Focus Leeds programme launch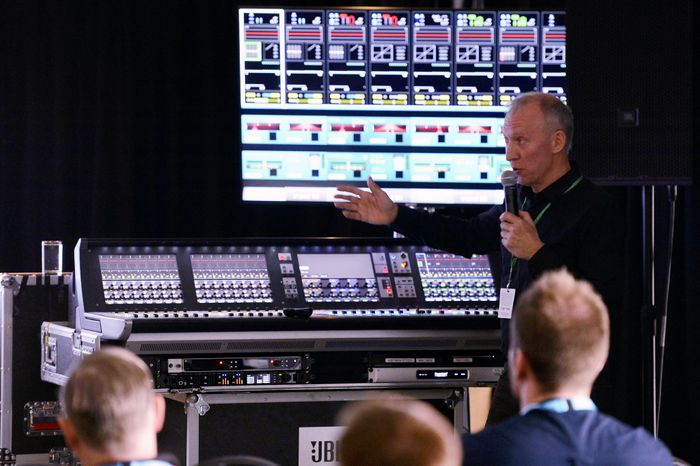 PLASA Focus Leeds has announced its first line-up of seminar sessions and speakers for this year's event on 14-15 May at the Royal Armouries Museum in Leeds. Free registration is open for show which has already seen over a thousand people claim their all-access entry badge.
Alongside the sold-out show floor with brands from across audio, lighting, AV, and staging, the seminars and training sessions provide opportunities to pick up essential technical know-how and gain insights into notable industry developments.
A programme highlight looks to the Royal Albert Hall, arguably the most iconic venue in the UK, which recently received a multi-million-pound audio system upgrade. Ollie Jeffrey, Head of Production and Technical at the Royal Albert Hall, and Steve Jones from d&b audiotechnik will discuss their technical process and reveal how the new system is already impacting the audience experience.
Renowned audio consultant Roland Hemming is presenting a series of seminars, kicking off with an introduction to voice alarm systems in which he unpacks the design and installation of emergency audio systems. He will then explain the position of BSI concerning standardisation of voice alarm systems and how Brexit may affect matters. Finally, Hemming will present an overview of digital audio networking, through its history to modern day standards.
Continuing on a theme, Dante return with a Level 2 training session, ideal for those already familiar with Dante. The training will cover redundancy, clocking, latency and multicast, giving attendees the skills to create more advanced systems.
Chartered engineering consultant James Eade will present two seminars on electrics. One which delves into earthing and protective bonding, and another which untangles the 18th edition IET Wiring Regulations, unmissable for those who work with temporary power systems, manufacture, hire or distribute equipment or are planning a venue refurbishment.
More crucial updates come in the shape of the Technical Standards for Places of Entertainment from the ABTT. The latest amendments will be outlined and there will be a safety and compliance surgery.
Production professionals can enjoy a presentation from Vectorworks, in which Tom White will demonstrate the design and production process of a medium sized concert using Vectorworks Spotlight and Brakeworks Analysis. Additionally, the Riggers' Forum will welcome industry leaders to lead discussion on issues that affect riggers and production professionals.
In a soon-to-be post-700MHz world, audio professionals may not want to miss the session on managing wireless systems which will outline RF principles and advise on preparing for the future. Also equipped with future-facing solutions, Bill Brooks from d&b audiotechnik will explain how the toolbox of today's project managers and engineers can improve noise control for outdoor events and festivals.
Running across both days, lighting professionals can get hands on with consoles under expert guidance. Zero 88 will run repeated introductory sessions on their FLX consoles, while ChamSys will host sessions for their QuickQ and MagicQ consoles as well as in-depth software and Q&A sessions.
More seminars will be announced in the coming weeks. For more information about the seminar programme and to register for the show visit www.plasaleeds.com.